Electric Gates and Barrier Installation Service
OTB Electrical Contractors install electric gates and barriers for industrial, commercial and domestic properties via our team of qualified engineers to make access more convenient. An automatic gate to control access will make your premises more secure. An electric security gate or barrier will ensure both safety and privacy.
OUR EXPERIENCE
OTB have been providing electrical services in Worcestershire and the West Midlands for over 30 years working across sectors with clients of all sizes.
We have supplied and fitted many cost-effective quality solutions. We are a registered member of the Door and Hardware Federation (DHF).
WHAT SETS US APART
We fully understand our clients' needs, we offer a complete design and installation of electric barriers, gate systems and rising bollards, depending on your requirement.
We cover service, testing and repair of the automated systems installed, with a one year warranty. All work is in accordance with current regulations.
OUR SERVICES INCLUDE
Latest technology and equipment
Site entry and exit systems
One-year warranty
CLIENT WORK & TESTIMONIALS
We have worked with many clients over our 30 year trading period and we are happy to organise testimonials for you to validate the quality of our work. We welcome independent feedback via Google reviews which we display on our site so you can see what people say about our work.
To discuss your access requirements contact us on 01299 825 816 or ask us a question.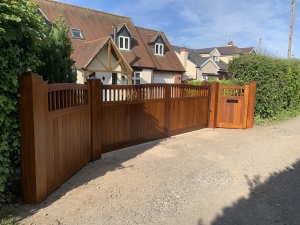 Access & Control
Automated access control systems to make property more secure.
Quality
Quality from leading brands with industry accredited products and warranties.
Installation
Installation by qualified, local CRB-checked engineers with years of experience.
Find Out More Or Contact Us
To read more about our company, staff, accreditations, insurances and the geographic areas we cover please visit our About us page or contact us.
About Us
Contact Us